Website Design and Development Services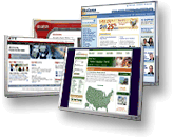 Image is one of the most important elements for business success. At Redhead we change the way people interact with the products and services you create. Our results-driven visual communications maximize your potential, communicate your company,s message and make a lasting impression. Much more than simple web design service, the Redhead team combines research, information design and visual design into an interface that successfully communicates your company's brand value.
Professional Website Design
Redhead delivers professional website design that spans from simple to complex depending on client needs. Always emphasized is attention to detail, usability, ease of navigation, and short download times. From small informational sites to complex business, Redhead is a full service website design company that possesses the complete range of artistic and technical skills required for flawless implementations.
Our Design Services Include:
Branding & Identity
Website Design
Flash Animation Design
Illustration / Animation
Print Design